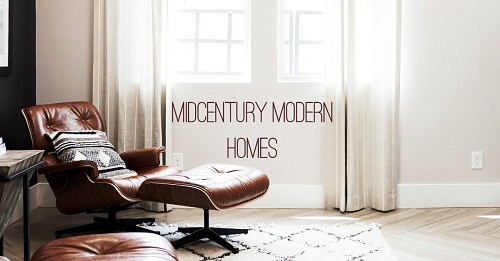 If you enjoy open concept floor plans and a plethora of windows, mid-century modern homes might hold the key to your dream design. Mid-century modern design emphasizes simple yet functional spaces, a healthy integration with nature, and appeals to a wide variety of homeowners.
Here is a guide to the basic elements of mid-century modern architecture to help you recognize it and incorporate it into your own plans:
Building with flat planes & mixed elevation
You can recognize most mid-century modern designs by their clean lines and geometric shapes. Flat lines are prevalent over curved lines, and appear both in perpendicular and parallel at multiple elevations.
Asymmetrical, flat roofs with varying heights are peak modernist architecture style. Indoors, you'll find mixed elevations in the form of partial walls, sunken living rooms and cabinets arranged in varying heights.
Illuminating with large windows & glass walls
Natural light is essential to modern home design. Mid-century modern homes often include sliding-glass doors or floor-to-ceiling windows that blend the interior and exterior living spaces. Skylights or ceiling windows are also popular choices for bringing natural light into the living space.
A light, neutral color palette helps take the natural light further inside the home. White walls are common backdrops for mid-century modern interior design, which also include very minimal window decorations.
Combining natural materials & natural surroundings
Another hallmark of mid-century modern home design is the use of natural building materials, both inside and outside. Modern kitchens use granite countertops and natural stone for clean, functional surfaces. Wood furniture and architectural elements are unstained to show off the natural grain.
Architects also use wood outdoors to create contrast with materials like concrete while still keeping a minimalist aesthetic. Other traditional materials are used to help the home and other structures blend in to the natural surroundings and blur the lines between interior and exterior.
The emphasis on function over form and the clean, simple feel of mid-century modern spaces are enduring aspects of this design style. While architectural trends blend and change over time, knowing these mid-century modern characteristics can help you recognize them anywhere you go.